21 August 2007
VIP
You decide to go to work quite dressed up. Despite the temptation to slack and dress in a shirt, sweater, jeans and sneakers ensemble, you go the preppy route. It was cold. Take the opportunity to layer, why don't you? You are then transported to the international airport for your meeting via old kog kog government bus that drips and kills you slowly with the carbon monoxide smell.

Adrenaline Rush #1: driving on the airport tarmac
You see this wide open concrete highway and you realize... shit, you're on the runway. Then you see the huge planes. Korean Air, Thai Airways.. they're close enough to touch, if you can get that close. You're tempted to jump in one of those planes to take you hopefully to.... moving on...

Adrenaline Rush #2: going inside the Dignitaries' Lounge
You go up through the authorized personnel parts of the airport and you're herded to the lounge where supposedly all big wigs are received. The room's not that luxurious to live up to it's name, but it has that feel of importance and history. Hmmm... maybe it's the smell of old couches and carpet.

You are then all herded back to the police station for a briefing near the airport where you think no end is in sight. You get messages from officemates back at work saying they've called off work and you feel like cursing everyone responsible for involving you in this shenanigan. Despite the possible flooding all over the Metro, the police force says yes... you may go on with the simulation. Drive all over even in horrendous traffic and floods for all they care. You sulk, wish that the day was over.

Adrenaline Rush #3: having your own convoy
You are told that you have to drive back to the airport, then to the hotel, then to the venue of the gala dinner. You try to complain... Shietous day this was turning out to be. Till you see your ride. A brand new sedan, very lightly tinted, leather interiors, and a plate that says "minister." It is a simulation after all... you own it. Be the "minister," you are the "minister." You have your very own driver and security officer with you in the car. You're scared to sneeze for fear of ingraining germs in the extremely clean interiors. Up front is your own motorcycle sweeper that cuts through and stops traffic, counter flows, beats red lights so your convoy can pass. Behind you is a police car with sirens to harass the motorists to get out of the way. You can see people outside trying to find out who this biggie is in the car. You control your giggles and giddy fits.. must maintain poise and grace, must look the part, must not show that what you really want to do is take a picture inside the car or roll down the windows and shout "pakshyet! ang sarap sumakay dito!!!"

The ride of your life eventually ends. You're driven back to reality, still in luxury using the new car but sans the convoy that allowed you to cruise through traffic. You realize that you're not a minister, you're not even a foreigner. Although you extremely enjoyed the ride, you know that it's not your life and that getting used to that lifestyle is not normal. You are reminded of your college Theo of Liberation, of social sin and all that. And you remember the occasional feeling of shame when you passed by all the motorists stuck in traffic, stress on occasional.

Being a VIP for the afternoon sure was a blast. But then riding in chauffeur driven cars is not the epitome of being a VIP. With great power comes great responsibility. You walk back home, hopping about in the rain thinking what a lucky git you are today. It's one of those out of this world days that may never happen again. Oh well. It was great while it lasted.

Orange Git at 12:57 AM
16 August 2007
A Little Bit of French Can Kill You
We weren't expecting much from J'me Sens Pas Belle (translated as I Don't Feel Beautiful).
Alliance Francaise
shows free French films every Wednesday. Since we now live a few blocks away, we decided to go for it.
This is the synopsis lifted from IMDB
Fanny, a single woman in her mid-thirties, has had enough of relationships that don't work, so she decides to seduce Paul, a colleague from the office, into a brief one-night sexual encounter. Everything is prepared when Paul arrives, but then, thanks to Fanny's clumsiness, things don't exactly work out as planned

Written by H. Prillinger
expect just a fling to pass the night and end up with a much greater thing?

Obviously I'm still affected. That film almost gave me a heart attack. If you're in the mood to be giddy and mushy, that's the movie to watch. It will make you want to cuddle next to the one you love or will make you want to search for someone to cuddle with.

This is the bittersweet song from the movie. It's called Thirty and Better. It's about living alone and not caring about it, although occasionally you do think about it, but at the end of the day, it's your choice and you're happy. Enjoy. For those who can understand french, i need a translation! I can't find one online.

Trentenaire et celibataire
Uploaded by Servietsky
video from www.dailymotion.com

Orange Git at 12:13 AM
11 August 2007
Why You?!?!?!?!?!?!? WHY?!!!!!
I read this from the Inquirer. I can't contain my reactions. Demet!






Yilmaz Bektas in

Manila

to woo Ruffa back

By Tarra Quismundo
Inquirer
Last updated 09:07pm (Mla time) 08/10/2007

MANILA, Philippines -- (UPDATE) By himself on a long flight from Turkey, Yilmaz Bektas, the controversial husband of actress and television host Ruffa Gutierrez, has returned to Manila to try to win back his family.

Welcomed by an anxious mob of media and curious airport employees, Bektas arrived at the Ninoy Aquino International Airport via an Emirates flight at 5 p.m. Friday, escorted by airline security from the plane to a waiting hotel service car.

Accused of beating and verbally abusing his wife, a timid Bektas obliged to answer a few questions from reporters.

"I miss my kids and I miss my wife and I'm gonna see her, I'm gonna see my kids," said Bektas, between walking and looking out for his suitcase. -- Demet !!!! Bakit sya pa? Shyet!!! Ang sweet. Demet!!!!! Hehe. Ingget.

"I'm gonna lose my suitcase," he then said, as photographers continued to flick the shutter.

Asked whether there was still a chance for him and Gutierrez to get back together, Bektas said: "Yes, that's why I'm here." -- Awwww.. Crap.

Bektas, who once had harsh words for his wife at the height of their feud, said he will stay in the Philippines for "maybe 10 days" or "until I'm gonna get Ruffa's heart back." --or if you don't get her back, I'm here. Haha! Yun naman pala eh. May sariling evil agenda.

He said he last talked to his wife the night before his flight.

And then he stopped before the baggage conveyor and again looked for his suitcase.

"Now I don't know where my suitcase is," said Bektas, wearing a black coat over a crisp white shirt and jeans. -- awww, lost boy. But must you describe in detail what he's wearing? Darn it, hotness!!! Hayyy... Ylmaz..

Orange Git at 1:46 PM
07 August 2007
We've Arrived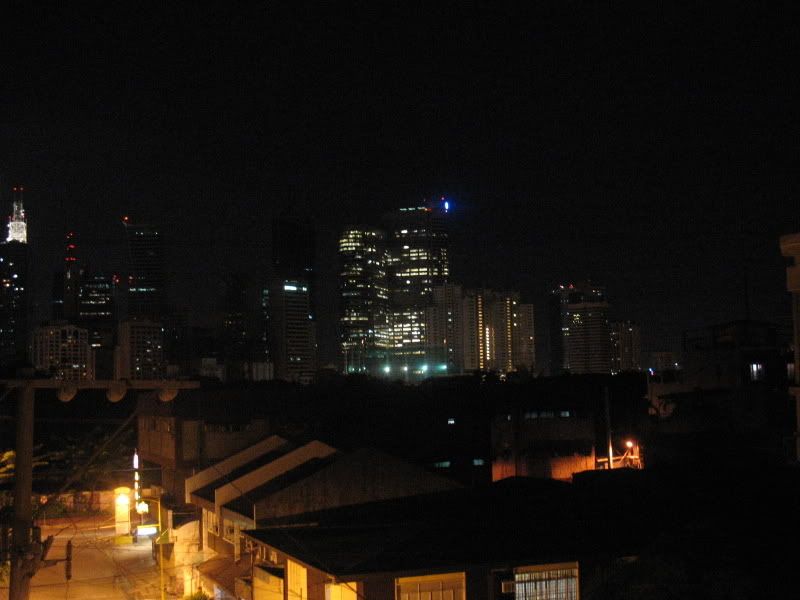 It's done. We've successfully moved apartments. We moved 70+ items/boxes/bags, made an OC checklist of all these 70+ items (out apartment, in truck, out truck, in apartment), unpacked and attempted to create our new home away from home.

We had no time to get sentimental and nostalgic. The movers were so efficient, they loaded all our stuff in the truck within 40 minutes. And before we could even begin to think of the apartment we've left, we were already at the new place. Our legs are sore from going up and down five flights of stairs. We have finally used general body malaise in our leave of absence forms in the office. This time it's legitimate. But the exhaustion and pain were all worth it.

We're really happy with the new place. If we were allowed one week of absence from work, we would have easily taken it without blinking an eye. We realized too that although we've accumulated tons and tons of personal stuff, we never invested in furniture. Hence, the empty living room that echoes. But that will soon be resolved, hopefully with a really comfy couch.

This was the ultimate test to our "independence," proving our resourcefulness and organization. It's times like these when we affirm how in sync we all are. Thinking and planning is easy because we know each other so well. So we continue with our "independent" lifestyle. Living away from our families, occasionally thinking grown up issues like monthly expenses and what not, racking our brains on where to eat since there's no warm home-cooked food waiting for us when we get home. We've been at this for ten years. I think this is a fitting milestone to ten years of friendship. We may each eventually move on, possibly careers abroad or one of us getting hitched. But for now, we continue what we've been doing... everyday slumber party at our fabulous new apartment.

Orange Git at 4:09 PM
01 August 2007
We're moving!
Finally after six years, we're moving to a new place. We've been trying to do it for four years now but we never found the perfect space. Finally we have. This one's almost twice as big as our old apartment, has a roof deck (parteh!) with an amazing view of the Makati skyline and is near Buddy's Pancit Lucban (hala, purga sa pancit hab hab).

It's actually just down the road, 10 minutes away from where we are now. But I still can't help the creeping separation anxieties. Six years is a long time, you know. Lots of memories in that small space that we called home for quite a while. So allow me to be nostalgic for a bit. Some things I'll miss when we move.

my walk home route- valero, dela costa, makati ave., burgos... speaking of which...
walking on P. Burgos Street, seeing the visiting foreigners (quite pervie, really) enjoy a bit of Makati entertainment, the girls, the gays, the occasional shock of seeing those odd couples (big chunk of white male with an uber petite and pinay female/ or could be male --they have adam's apple forkrissake!!! how can you mistake them for girls?!), occasionally getting checked out by undesirable weirdos (yiiiii! eewww! i feel so dirty!)

being able to actually walk to Powerplant, yes it's that near -- for that lifestyles of the rich and famous fix, star sighting fix (yesterday I saw zanjo marudo, manu sandejas and carlos agassi), crowd-less shopping fix (as if i can really shop at Powerplant), and overall feel mayaman for the night fix

In the absence of cabs, we can actually walk it home from Glorietta. It's slightly far but it's walkable. Flip flops and good company and we're set.

THE bibingka they sell during simbang gabi at Burgos Church
Insular Bakery - where else can you buy yummy enseymada at 4 pesos a pop?
That 711 just around the corner which allowed me to survive on bread, an assortment of chips, payless instant chicken mami, asado siopao, chicken cheese hotdog, coke light or sola iced tea... such healthy eating habits, don't you agree?

the Beef Hofan and chinese lumpia at North Park Next Door
the Makati Avenue strip of restos that satisfy our every craving - fast food, chinese, japanese, italian, pinoy

passing by Teriyaki Boy for dinner when we can't think of anywhere else to eat

being so near station 168 that I can stay till 11pm downloading all the mp3's and Rain videos I want
living near Makati's Korean Village... we must have a farewell Min Sok dinner before we move out, but when will we have the time?
It's not a total separation from all of these things. After all, we're not moving that far. But it's still different. However, I'm extremely excited and hopeful that this move will open to more opportunities. Maybe it will bring us that career boost we've been waiting for, or new and brighter prospects in our nonexistent "social" lives (I will not label it as what it really is.. hehe. Don't want to be like Uncle Vernon in Bridget Jones' Diary). New aura, feng shui, good karma... whatever it is. This move feels good.

So we're off! Packing the must haves and disposing the worn out. Someone made me think before that moving was such a burden, like it's a never ending packing experience. But like most of the things that person made me believe, it's actually quite the opposite. I'm loving this experience. By this time next week, I'll have a new address. It's sinking in, and it feels fabulous.

Orange Git at 2:33 AM